Air Miles Required for Flights

When you travel anywhere, airfare is often one of the biggest expenses.  With air miles, however, you can cut the cost of your flight and save money to spend on other things during your holidays.  It can seem difficult to save air miles, but that need not be the case. Continue reading to learn more and see how you can maximize the benefits of air miles.
Examples of Air Miles Schemes
Different reward programs operate in different ways, and the number of air miles you can earn often depends on how many miles you actually fly, the date when your flight is booked, and the class in which you travel.  Your departure country and destination can also be factors, so it is difficult to list any hard and fast rules. Each scheme also has a different number of air miles needed for a journey.
For example (updated in April 2014) , with United Airlines, for a standard economy flight between the mainland US, Canada, or Alaska and another point in the mainland US, Canada, or Alaska you will need 25,000 air miles.  A similar flight to Central America will need 37,500, and for Europe 65,000.  The same routes with business class will need 50,000, 70,000, and 150,000 respectively, and for first class flights the amounts would be 70,000, 85,000, and 170,000.  Flights starting in southern South America and finishing in South Asia will need 100,000, 190,000, and 210,000 air miles for standard economy, business, and first class flights.
√ Use our comparison form to see real time flight rates –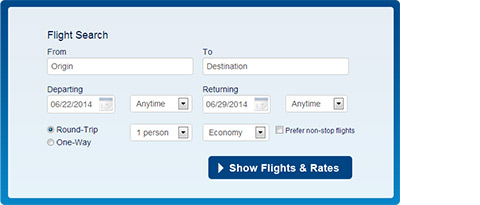 The figures are for a one-way flight.  For a return journey you should simply double the amounts.  If your flight is with a Star alliance partner, the amounts are different.
American Airlines calculate the air miles needed based on the distance that is traveled.  For example, a journey of up to 1,500 miles will require 30,000 air miles (economy), 60,000 air miles (business class), and 80,000 air miles (first class).  A trip that is between 1,501 and 4,000 miles will need 35,000, 75,000, and 100,000 air miles for economy, business, and first class.
The amounts keep increasing according to defined distances.  A longer flight that is between 14,001 and 20,000 miles will need 100,000, 130,000, and 180,000 air miles for economy, business, and first class flights.  A journey that is between 35,001 and 50,000 miles will need 160,000, 220,000, and 330,000 air miles for the three different classes of travel.
Flying with Delta from Europe will need the following amounts (for flights on or after the 1st of June 2014 and booked before the 1st of January 2015):
– Economy class Saver within Europe 15,000, economy class Standard within Europe 20,000, economy class Peak within Europe 30,000.
– BusinessElite / First / Business Class Saver within Europe 25,000, Standard within Europe 40,000, Peak within Europe 50,000.
– Air miles can only be used on Saver flights to Africa, so for economy class you would need 35,000 and for BusinessElite / First / Business Class you would need 50,000.
These are just a few examples of different requirements for air miles.
What are Air Miles?
The basic idea behind air miles is that you accrue points that can be redeemed against flying.  So many points equal one mile in the air.  So if you need X amount of points for one mile, and your flight costs Y, when you redeem your points you pay for less miles making your overall flight cheaper.  You can use the air miles as full or part payment towards the base ticket cost.
Can I fly for Free?
Almost!  With enough air miles you can cover the base cost of the ticket.  You will, however, still need to pay taxes.
How do I Accrue Air Miles?
Many airlines offer loyalty programs where customers are rewarded with points to use towards air miles.  The points generally correspond to the distance flown, so a longer flight will give greater rewards.  Several credit and debit cards offer air miles when the card is used to make purchases.  The important thing to remember is that without being a scheme member, you cannot collect points or air miles.  So sign up for the reward schemes with the airlines that you use most often to start collecting, and redeeming, points! However, keep in mind that some frequent flyer programs have expiration dates for air miles, so make sure to use them before you lose them.
What Can I use Air Miles For?
As well as using air miles for discounted flights, you can also often use them for a variety of other products and services.  These may include access to airport lounges, on-board meals, upgraded seats, and priority bookings.
How Can I Redeem Air Miles?
You can use airline air miles when you make your reservation.  If you collect with a specific airline you can only use your rewards with that airline or a partner.  There are some generic schemes though that can be used with a number of airlines – to gain the benefits of your air miles you must make a booking through one of the partner travel agents.
Can I Always Use Air Miles?
Some flights are subject to restrictions whereby you cannot use your air miles.  This is often the case on flights that are already heavily discounted.  You cannot usually use air miles in conjunction with promotions and special deals.  Sometimes, you have a choice – to use air miles and forego other benefits, or save your air miles and take advantage of other deals.  It may be the case that there are some really great savings to be made and deals to be found without using your air miles.  Redeeming air miles is not always the cheapest way to fly.  Comparison is important, therefore, to make sure that you really are getting the best deals.
Must I Use My Air Miles?
Not at all.  You can save your air miles for future flights.  Sometimes it is actually better to do just this.  You can take advantage of other deals and allow your points to continue to build, giving you more savings for future air travel.  In some situations, the taxes form a significant part of the overall ticket cost.  As you cannot use your air miles towards taxes it is better, in such a case, to pay for the ticket in full and save your air miles.  It may also be more cost effective to fly with another airline altogether, as their ticket price may be cheaper even when taking into account any potential savings made with air miles.
How Can I Get the Best Deals on Flights?
Compare flight prices and terms before you book!  This easy comparison form makes it quick and convenient to compare different flights, thus making sure that you are getting the very best prices.  Save yourself money and enjoy having extra to spend on sightseeing, souvenirs, a night in a luxury hotel, a romantic slap up meal, or anything else that tickles your fancy!
In short, collecting air miles is a great idea and can really help you to save money on flights.  They are not, though, always the best way to get cheaper flights.  A quick comparison of flights will set you on the way to making sure that you are not spending money unnecessarily and that you really are getting the very best prices for your trip.